Wilderness First Aid That Sticks to Your Head
Slipstream Covid-19 Updates can be found here:
https://wildernessfirstaid.ca/our-response-to-covid-19/

Your Wilderness First Aid course will consist of two portions: Slipstream Online Campus materials (content, quizzes, assignments and your final exam) and the Hands-on Workshop component (the dates you signed up for).
You can start the course material as soon as you're enrolled in the campus. There are 4 assignments and an exam that must be successfully completed to qualify for certification.
The Gamma
A Comprehensive Guide for Slipstream Students
6 Things you need to know and do right now
Wilderness First Aid 50 - The Essential Course
Online Campus: Complete 23 hours (estimated) of self-paced online course work
Hands-on Workshop: Attend all 3 days
Wilderness first aid 90 - The Advanced Course
Online Campus: Complete (estimated) 45 hours of self-paced online course work
Hands-on Workshop: Attend all 5 days
Recertification
Keep it Simple Recertification
Online Campus: Review Required
Hands-on Workshop: WFA50, attend 3 days. WFA90, attend 5 days.
Not so simple recertification (aka: Fast track)
Online Campus: Extensive Online Work Required
Hands-on Workshop: Contact Slipstream Headquarters at info@wildernessfirstaid.ca to confirm the days you will attend.
Please note: re-certifying students must complete the Skills and Scenario Checklists during the Workshop. Successful completion is required to access Final Exam and qualify for certification.
Upgrades
Online Campus
Start your lessons in the Online Campus after you have read The Gamma - this document.
Instructor interaction starts one week prior to your Hand-on Workshop and finishes when you write your final exam, approximately two weeks after your Workshop ends.
You will have pre & post lesson quizzes, midterms and additional information in the online campus that will prepare you to engage in hands-on practical first aid techniques, scenarios and evacuation exercises in your Hands-on Workshop, as well as to prepare you for your online final exam.
Final Exam question clue: The answer is no, that is not a picture of a Minke Whale
Hands-on Workshop
Indoor and outdoor class time devoted to practicing hands-on Wilderness First Aid scenarios.
The Hands-on Workshops are highly physical: You will be lifting and carrying other students, and you will be lifted and carried. There is a lot of movement in uneven terrain. If you have a condition that might be irritated by any of these activities, please let the instructor know.
Your instructor will inform you of the outdoor class locations. Come prepared. Use The Beta Slipstream Student Checklist.
Workshop Supplies Checklist found below.
You will be required to sign a waiver to participate in the Workshop and we've supplied it in advance so you may seek legal advice if necessary
Please note: our instructors, associates and staff at Slipstream are not able to provide advice regarding the waiver due to obvious legal reasons.
Please ensure you fully understand our waiver before you come to your Workshop.
Signing the waiver in the presence of your instructor is a condition of participation on your first day of your Workshop.
Underage participants (19 in BC; 18 in AB) must mail the signed waiver to Slipstream Headquarters prior to the course start date and also bring a copy to class.
Before you come to your Hands-on Workshop, you need to know how to tie a few knots.
Specifically: Trucker's hitch, clove hitch, and square (reef) knot will get you through.
Visit www.animatedknots.com and practice.
Get the App:"How to Tie Knots" and practice
Mandatory (this is not even a little bit optional)

A watch. Don't have one? Get one. Wear it. Every day (smart phones work well too, keep it dry!)
A full change of clothing. Lots of extra clothing for splint padding. You will also get wet, muddy, dirty and cold. Really wet, really muddy, really dirty and really cold; and may need to change into dry, warm clothing during the course.
Duct tape. Not really a requirement, but many students find it quite handy

.

Jumbo Roll recommended.
School supplies. Ask your Mom
Large Ziplock style bags. Enough to keep your school supplies and paperwork dry. Drybags work great too.
Rope and/or cord and/or webbing. You can never have too much; four or five good lengths are ideal. If you're thinking of buying more, get 5m of 5mm Kernmantle rope and 5m of webbing. Whatever type you bring should be easy to tie knots in. Avoid yellow polypropylene rope.
Leg Splints. See instructions below on how to prepare them
Trip and Profile Cards. See instructions below on how to prepare them
First Aid Training Supplies. These supplies are required for training and will be delivered to the classroom for you. There will not be an opportunity for you to purchase them at the course. Bronze Package Recertification Students: Bring Your Own First Aid Training Supplies OR order them from us. Use our First Aid Training Supplies list as your guide if bringing your own. See the list here or

order yours

elf one of our handy Student Training supplies packages

. Think of it as a First Aid Kit starter package.
Gear that will make your life w-a-a-a-y easier
Sleeping bag, blanket, or anything else to cover your patient.
Ground insulation. Thermarest™ works best, but anything will do
Tarp. 3m x 3m (or larger) works best
Headlamp. (You may do outdoor field trips in the dark)
Mobile Device. Smart phone, Tablet or iPad. Google is your friend.
Brown bag lunch and snacks. Water to keep you nice and hydrated throughout the day
Saw. For cutting splint and stretcher poles. If you plan to buy one, get a Can-Saw™ (chain link saw sold in a small "snuff" sized can)
Something to put it all in. A backpack, or dry bag with straps, is easier to carry than a duffel bag.
Additional container for the Course Training Supplies you ordered from us.
Access to the Internet for evening study during your course… like an Internet café, library, coffee shop.
If you want to have a paper textbook in your hand, we highly recommend Medicine for Mountaineering & Other Wilderness Activities, 6th Edition – Edited by James A Wilkerson, MD.
Medical dictionary (this is different from a language dictionary). Or get a medical dictionary App
Rain gear. Bring it every day. Even on the sunny days
Knee pads (gardening style) for long stretches of kneeling
Carabiners
Chair. Crazy Creek™ or Thermarest™
Maps of the area you usually work or play in. To aid in scenario evacuation planning.
Cooking pots, used by some students to make themselves hot water and food. Your call.
Extra pair of glasses in case yours get broken and you need them to see
Small "field notebook" for the outdoor component. Like a logbook or similar.
Probe pole, ice axe, pickets, etc. Used by some for splint improvisation. Note: these are difficult to use. Your call.
You must bring splinting materials with you on every day of your Wilderness First Aid course. These instructions explain how to get ready for splinting. There will not be anytime to prepare during class, so make sure you do this before you come. Two poles or skinny sticks belly-button height from floor is good enough. Cut pant legs as below prior to your Workshop.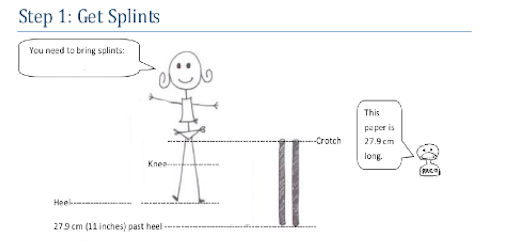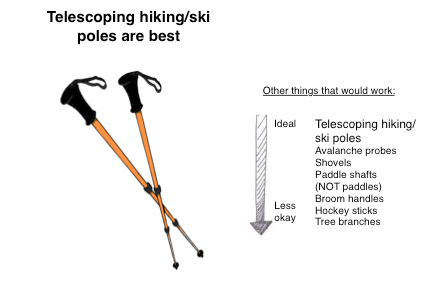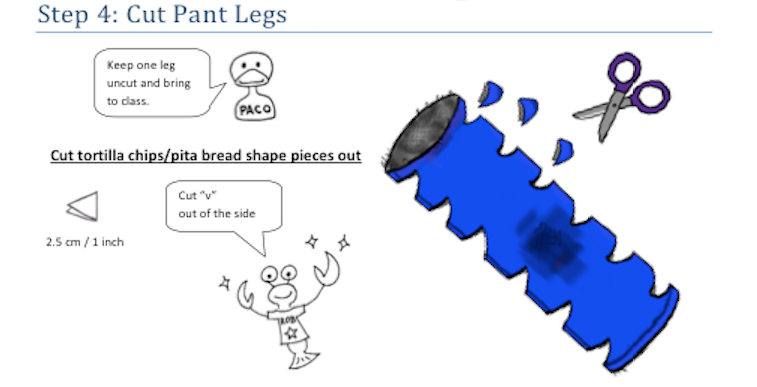 During your Slipstream Hands-on Workshop you will do indoor and outdoor Wilderness First Aid simulation skits. The purpose of Wilderness First Aid simulation skits is to practice the assessments & procedures used when dealing with first aid situations in a wilderness environment. During these scenarios you will take turns being a character (rescuer or a patient). You will need to make Wilderness Trip Cards and Profile Cards on the injured person.Wilderness First Aid 50 - The Essential Course: Make 8 Trip Cards & 8 Profile Cards
Wilderness First Aid 24 - The Intro Course: Make 4 Trip Cards & 4 Profile Cards
Wilderness First Aid 50 - The Essential Course: Make 8 Trip Cards & 8 Profile Cards
Wilderness First Aid 90 - The Advanced Course: Make 12 Trip Cards & 12 Profile Cards
Custom Course: Contact Slipstream Headquarters at info@wildernessfirstaid.ca to learn if you need to prepare Trip & Profile Cards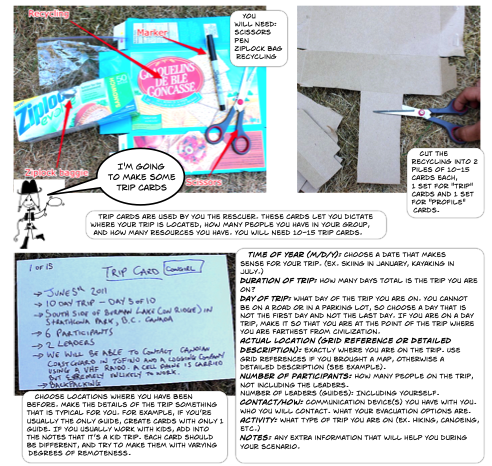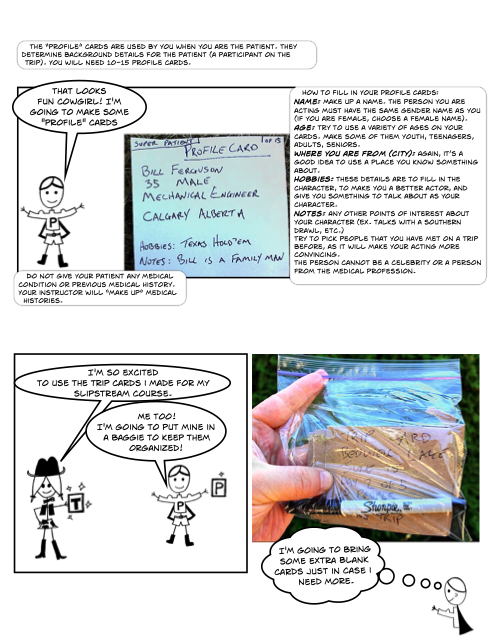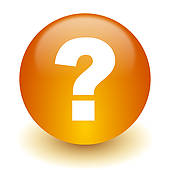 Item 6 – Questions?
Send us an email at Slipstream Headquarters or call us!
Email: info@wildernessfirstaid.ca
Phone: 1-800-760-3188



Registered user troubles? Problem signing in? Please email...


If you have not yet registered Click here or call 800-760-3188




Were you unsuccessful during your course or workshop, or written exam? This page will list your options to qualify for another attempt at certification.






Available courses